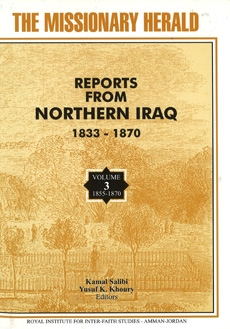 The Missionary Herald Reports From Northern Iraq, n°3

Kamal Salibi,
Yusuf K. Khoury

Royal Institute for Inter-Faith Studies

osul. — W. Frederic Williams, wight W. Marsh, Henry Lobdell, M. D., Missionaries; Mrs. Julia Marsh, Mrs. Lucy C. Lobdell.— Two native helpers.

Diarbekir.— Augustus Walker, Missionary; David H. Nutting, Physician; Mrs. Eliza M. Walker, Mrs. Mary Elizabeth Nutting.— One native helper.
Out-Station.— Hainee. — One native helper.

Mr. and Mrs. Dunmore, for reasons growing out of the state of her health, have been transferred to Arabkir. Dr. and Mrs. Nutting have joined the mission within the period under review. The death of Mrs. Williams is deeply lamented by her associates at Mosul.

A distinguishing feature of this mission is the greater degree of intercourse, as compared with other missions in Western and Central Asia, which it is enabled to have with Mohammedans, thereby ...