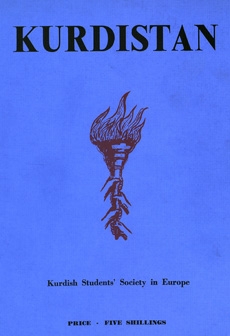 Kurdistan, numbers XI & XII

KSSE

Compte d'auteur

The Twelfth Congress:

With the exception of the Kurdish Students' Society in Europe's Second Congress, which was held in London at the end of December 1957, all other congresses have been held in summer, and mostly in August. The Twelfth Congress was also to take place from 17th to 22nd August of this year. While everything in Vienna was set and delegates from all over Europe were preparing for departure, the Austrian authorities announced on August 10th 1967 that the Kurdish Students' Society in Europe Congress was not going to be allowed in Vienna, and measures would be taken by various Austrian Embassies in Europe not to grant entry visas to the Kurds. This sudden and surprise ...